Silicon Valley and the hub of IT in India, Bangalore is a city of people, colors, and culture. It is also the city of sumptuous and mouth-watering delicacies that you just can't say no to!
From its dazzling plethora of splendid gastronomy, we bring you the best street food in Bangalore that you must not leave without trying. We put together everything you must know — popular eateries, as well as their must-try delights — before trying the famous street food in Bangalore that will blow your mind!
Scroll down and check out the most tempting street food items to try here that will have you coming back for more!
1. Mangalore Buns – The Sweet Obsession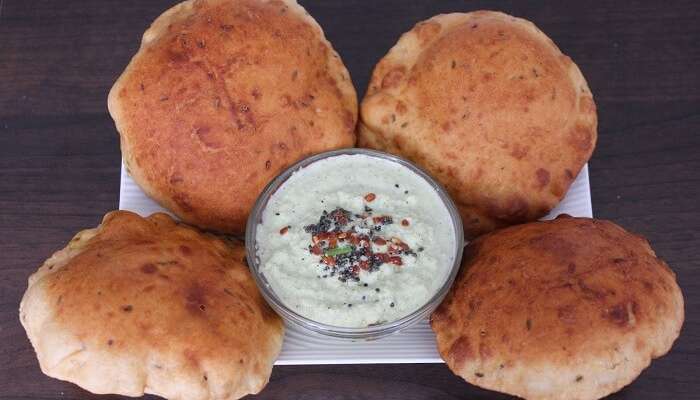 A local delicacy of Udupi region, Mangalore Bun is sweet, tender and fluffy puri made of bananas. Easy to make, these Mangalore banana buns are generally relished with coconut chutney and sambhar. If you are looking for the yummiest street food in Bangalore, start with them.
Where to try: Chetty's Corner in Serpentine Road and New Krishna Bhavan in Sirur Park
Relish with: Nothing tastes like a day-old buns eaten with potato bhaji or kurma. Mangalore Buns can be served hot or cold.
2. Dal Obbattu – The Kannad Delight
Obbattu is a local dish of Mysore region and a popular street food in Bangalore. Locally called bobbatlu or puran poli, Dal Obbattu is made of toor dal, jaggery, cardamom powder, flour, and rava. It is one of the delicacies savored during festivals like Diwali and Ugadi. Obbattu is served piping hot with ghee sprinkled on it.
Where to try: Holige Mane in Malleshwaram
Shelf life: Dal Obbattu can be stored in room temperature for 2 days.
3. Idli, Vada, And Dosa – The Southern Slurp
Image Source
The South Indian breakfast – piping hot idlis, soft vadas, and crispy dosas – is also the signature street food in Bangalore. These south Indian delights are easily available, affordable, and exceptionally tasty. They are best served with hot sambhar and coconut chutney. The neer dosa available at some outlets is an integral part of the Karnataka cuisine. It's surely the best thing to try in the list of street food in Bangalore.
Where to try: Central Tiffin Room in Malleshwaram, Brahmin's Coffee Bar, Basavanagudi and numerous roadside stalls on Thindi Beedi at VV Puram
Must try dishes: Butter Dosa, Paper Dosa, Rava Dosa, Kesari Bath, Poori Saagu, Masala Vada, and Lemon Bath Dosa, which is made with filling of lemon rice and potato palya
Suggested Read: 26 Road Trips From Bangalore You Must Plan With Your Friends In 2019
4. Bhaji With Filter Kaapi – Best Street Food In Bangalore For Rainy Evenings
Eating the hot and crispy bhaji is one of the best ways to enjoy the typical Bangalore 'mausam'. A number of roadside stalls sell these deep fried vegetable bhajis, winning the hearts of millions of foodies in Bangalore.
Where to try: Shivraj Bhaji Cart in Vijayanagar, Basavaraj's Bhaji Bandi in JP Nagar, and Pramod's Jalebi & Bhajji in Koramangala
Must try variants: Mirchi bhaji, Raw banana bhaji, Aloo Bonda, Capsicum bhaji, and Uddin Vade (Vada made of Urad Dal)
Relish with: Sold with grated carrot and onion salad, and dhaniya-pudina chutney, they are the perfect rainy day snack, especially with a cup of refreshing filter coffee.