Vada Pav – Yummy And Filling For Evening Hunger Twinges
Vada Pav, the popular is quite loved in Bangalore too. Vada Pav is nothing but a sandwich made of bun-bread stuffed with vada. It is a spicy delicacy, served with gunpowder chutney and fried green chillies. In fact, there is a non-vegetarian version too. Replace the veg vada with stuffed minced meat and it becomes spicy and yummy keema pav. It surely is a great option if you are craving some midnight street food in Bangalore.
Where to try: Dadan Vada Pav in Indiranagar and Chatar Patar in Jayanagar
Must try: Aloo, Chatpata, Schezwan and Paneer Vada Pav
Discover some of finger-licking North Indian food items that are served with some extra zest and flavors in the streets of Bangalore!
Sandwich And Parantha – Breakfast Bonanza For North Indians In Bangalore
The young population of Bangalore is always looking for a quick bite that is filling and yummy at the same time. Sandwiches and parathas are the best options for them. Bangalore has some awesome sandwich outlets that serve healthy and reasonably priced variants.
For those who don't mind a little butter, there are parathas – choose from gobi, aloo, mooli, pyaaz, and more stuffings. This lip-smacking street delight tastes best when served with melting butter on top, a tangy pickle, and green chili. Midnight hunger pangs? Order away some sandwiches and paranthas that is, without a doubt, the best street food in Bangalore at night.
Where to try: Hari Super Sandwich Zone in Jayanagar, Tiwari's Ghee Paratha & Chai in Banashankari, Paratha Plaza in Koramangala, and Golmaal Paratha in Jayanagar
Must try: Chocolate sandwich and Beetroot & Carrot Paratha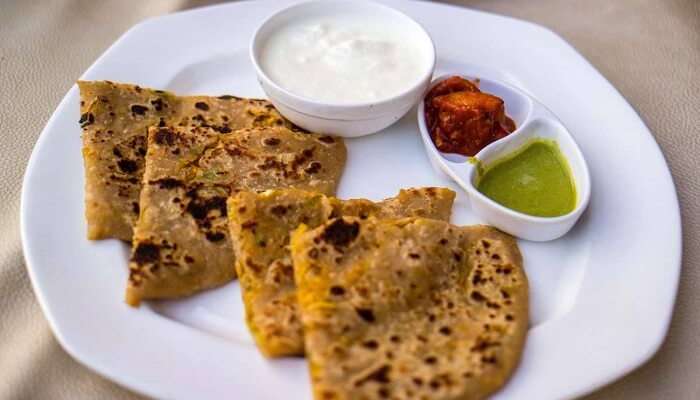 Kebabs And Rolls – Quick Bangalorean Street Food
Reasonably priced crunchy rolls and freshly grilled kebabs are also among the popular street food in Bangalore. These wraps, in the form of crispy parathas, have both vegetarian and non-vegetarian variants. Succulent and tender chicken rolls, mutton rolls, vegetable rolls, grilled tikkas, and juicy kebabs must not be missed.
For the health conscious people, there is an option to replace the paratha of the roll with roomali roti. However, taste-wise does not try to match with typical Calcutta Rolls as Bangalore has its own tasty version.
Where to try: Khan Saheb & Chakum Chukum Calcutta On A Roll in Indiranagar and Sha-E Darbar in Yeshwanthpur
Must try: Non-vegetarian delights include chicken kathi wrap, mutton bhuna, double-egg chicken roll, mutton tikka, and reshmi kebab. Mixed vegetable-tikka roll, paneer roll and tikka, mushroom roll and tikka, babycorn tikka, and the veg roll are simply irresistible.
Gobi Manchurian – Indo-Chinese Gastronomy
The crispy, tangy, and spicy preparation of Gobi Manchurian is quite famous. Regarded as the best street food in Bangalore by the youth, it is a pocket-friendly delicacy made by deep-frying cauliflower balls and tossing them in dark soya sauce. Chopped spring-onion garnishing adds to the taste. Though the dry version is a popular snack, gravy variant is also available.